Iris Torus
Previous
Next
We are absolutely thrilled with our Iris Torus sculpture, it is stunning!
Inspired by the reflective facets of a cut diamond, the fragmented, mirrored surface of the Iris Torus emulates the iris of an eye and creates a dramatic, unique effect.
The interior of this large garden sculpture is industrially coated with a paint color of the clients choosing.
The large garden sculpture comes in a 39", 59", 71" and 79" diameter, with other sizes available on request.
Pricing starts at $71,961 including lighting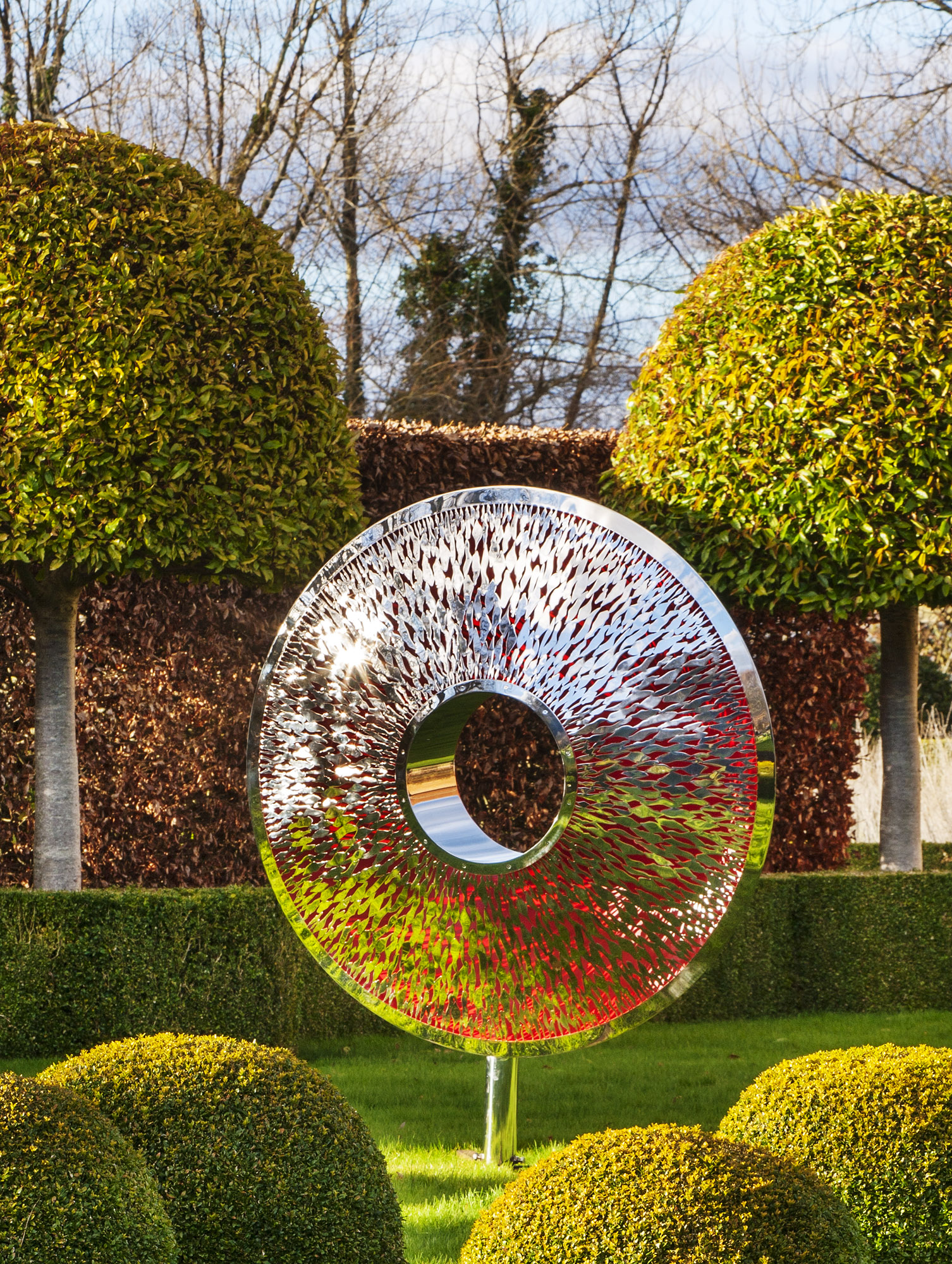 The Iris Torus is crafted from 316 marine grade mirror polished stainless steel with the interior powder coated in a colour of your choice.
The large garden sculpture comes in a 100cm, 150cm, 180cm and 200cm diameter, with other sizes available on request.
David Haber provides a steel tube which is cast into the ground by the client at the desired location and secured with a concrete foundation. The Iris Torus is then fixed onto the tube once the concrete has been cured. The size of the foundation tube is dependent on the size of Iris Torus chosen. There are other installation methods possible.
It is possible to incorporate a low voltage LED uplighter in the bottom of the central aperture which provides a stunning lighting effect at night. We supply the driver but this will require a conduit plus drawcord to be installed for the electricity supply.
Installation and delivery are included in the price for UK commissions, and for overseas shipping quotes can be obtained and charged at cost.
We would recommend that the Iris Torus be cleaned when necessary with warm water and a very soft cloth and then rinsed with warm clean water. Once dry, it can be polished with glass cleaner and a soft lint free cloth. Use of any abrasive cleaner will damage the finish and must be avoided. Maintenance instructions will be issued on installation.