Armillary Spheres
Previous
Next
Nearly two millennia ago, Ptolemy, the Greco-Roman astronomer and mathematician, envisaged the armillary sphere as a geocentric model for the motions of the heavenly bodies. Today, David's fascination with astronomy and cosmology is reflected in his rendering of celestial longitudes and latitudes in precision engineered hoops of brass, bronze and mirror-polished stainless steel.
Armillary spheres lend themselves to engravings of personal resonance: mottoes, quotations, names, dates, commissioning statements, distances and direction to locations significant to the client can all added.
All spheres are available in a 60cm, 70cm or 80cm diameter. Other larger sizes available on request.
Bronze
As well as being strong and highly durable, a bronze verdigris patina on these armillary sundials gives the impression of timelessness.
Included as standard with the bronze armillary sphere:
Extra rings marking the Tropics of Capricorn and Cancer and the North and South Polar Circles
A calendar showing the progression of the months and a client-specified date
Arrowhead and tail
Price starts from $ 14,269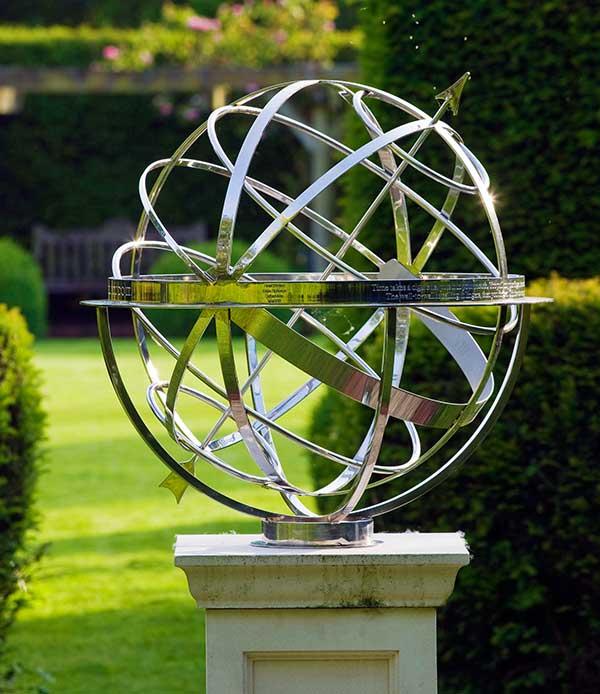 Stainless steel
Made from marine-grade stainless steel, these armillary spheres are mirror-polished to ensure high visibility and lifelong brilliance.
Additional features like a calendar or an arrowhead and tail can be added.
Price starts from $ 10,246
Brass
A lighter material than bronze, brass has a real sense of weight and a patina that matures well, darkening with age.
A calendar, an arrowhead and tail, and other additional features can be added to brass armillary spheres.
Price starts from $ 5,890