Dark Planet Fountain
Previous
Next
The Dark Planet Fountain is a tantalizing water feature made from hundreds of black puddle stones, carefully positioned to form a perfect sphere.
The spherical water fountain is displayed as if floating on a large reflective pool. Water gently tumbles over its surface of glistening dark pebble stones creating a water feature that is both an aural and visual delight.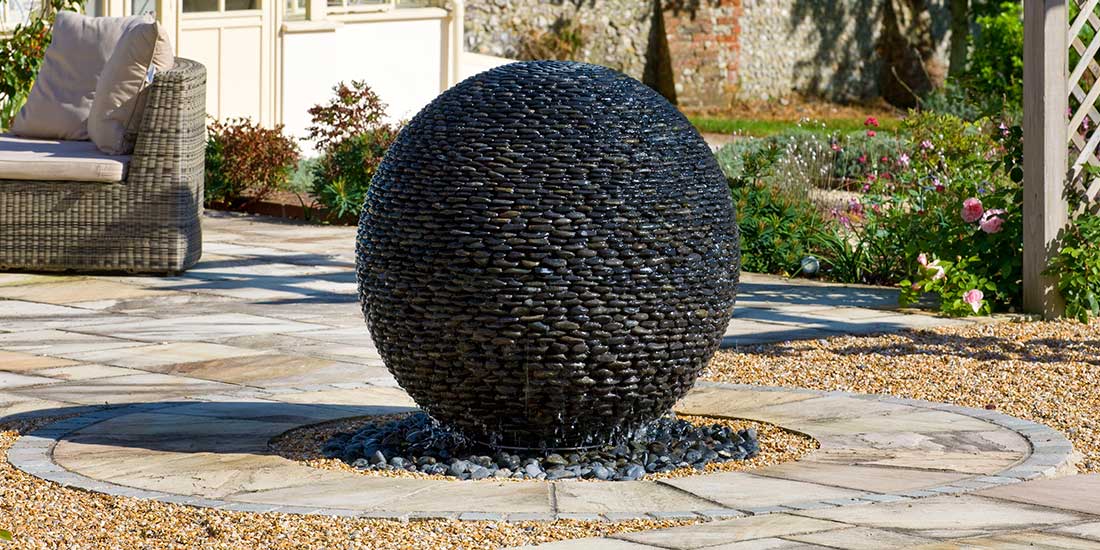 Tank included. Dark Planet Fountain comes in a 30", 39" and 47" diameter, with other sizes available on request.
This stone sphere water feature combines sophisticated symmetry with the natural randomness of pebble stones. For more sculptures made from pebbles, see the Kernel, a sphere with a stainless steel wedge cut into it, or Dark Planet, a perfect sphere with an illuminating core.
Prices start at $26,705 including reservoir tank, pump and lighting.
This piece can be constructed from smooth black puddle stones or shards of Welsh slate. Internal lighting and tank are included.
Dark Planet Fountain comes in a 76cm, 100cm and 120cm diameter, with other sizes available on request.
Installation and delivery are included in the price for UK commissions, and for overseas shipping quotes can be obtained and charged at cost.
If installed correctly with a suitable filtration and softening package, then maintenance required is minimal. Typically, this would consist of draining the piece a few times a year, removal of any debris and refilling with fresh water. In areas of hard water or high salt content, the tank will need to be drained down more frequently as the concentration of salts in the water increases over time. Maintenance instructions will be issued on installation.